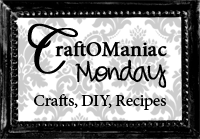 I submitted my Paris glass pendant to over 200 thumbnails on that blog that people scroll through and can click to be taken to your blog. It's a party! I have found so many great blogs this way.
Here are some more things that I have been working on the last few days. I hope you like them. And remember I always use recycled thrift store items.
This is the top of a jewlery box that was AWFUL looking with 70s teddy bears on it. Now it is a chic French themed jewelry box. Repainted, coated, decoupaged and stamped.
Au revoir for now my lovely followers. Today I go teach two voice lessons....money to buy more craft supplies??